Ramadan, the holy month for the Islamic world and the month when Muslims fast, has begun. In this month, many believers spend this time period without consuming any food or drink by fasting for certain hours in line with their beliefs.
During this period of hungry and thirst, blood sugar of many people naturally falls. And as a result, dessert varieties become one of the indispensable dishes of iftar tables.
Many desserts, from dates to sherbet, from baklava to kadaif, from rice pudding to other milk desserts, sweeten the Ramadan tables.
The emergence of another popular dessert, künefe, is not known for this reason, it happened during the month of Ramadan. Rumor has it that künefe first emerged during the Fatimids and Umayyads, after it was prescribed by doctors to suppress the hunger of sultans and caliphs, whose blood sugar dropped during Ramadan.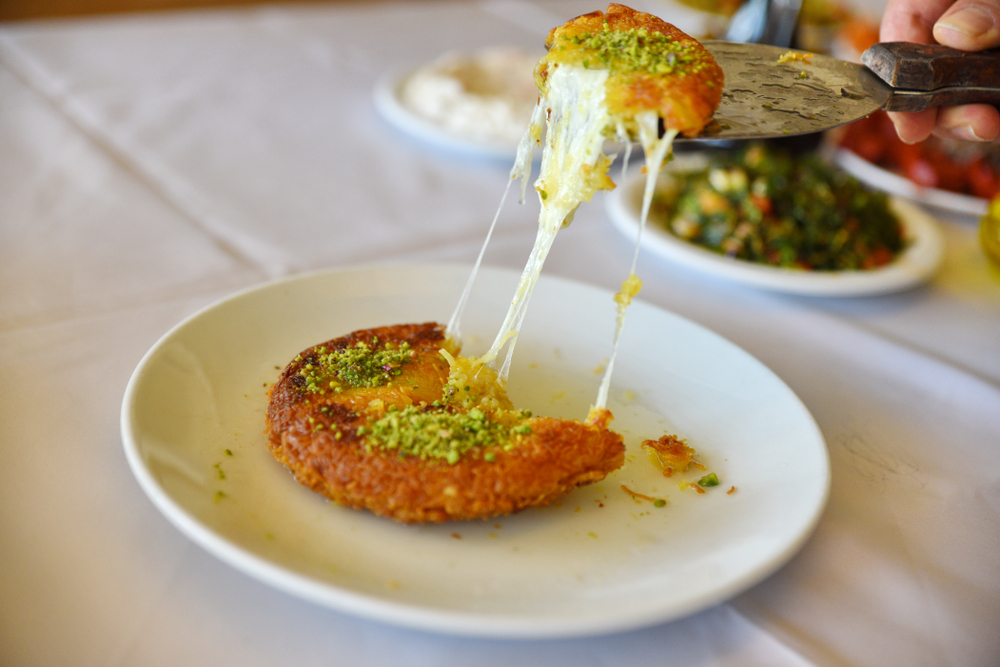 Some Islamic historians say that künefe dates back to the Fatimid Caliphate, when the Fatimid Caliph Muiz Lidinillah entered Egypt during Ramadan and people greeted her with such sweets.
Some historians say that the history of the künefe dates back to the period of the Umayyad Caliphate. Rumor has it that Levantine confectioners prepared these sweets for Muawiya I after the doctors' advice or prescription after complaining of hunger during Ramadan.
Ramadan: Kanafeh
This is why another popular dessert, kanafeh, was first discovered during Ramadan. It is rumored that kanafeh first appeared after being prescribed by doctors to suppress the hunger of the sultans and caliphs of Fatimids and Umayyadswhose blood sugar fell during Ramadan.
Some Islamic historians say kanafeh dates back to the Fatimid Caliphate, when the Caliph Moezz Li-Dinillah entered Egypt in Ramadan and people welcomed him with this kind of dessert.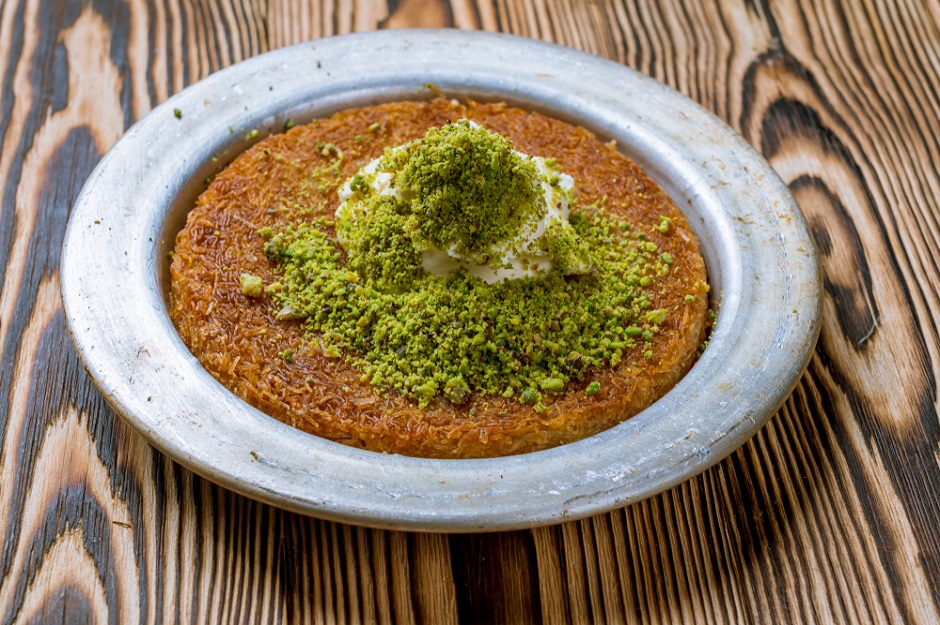 Other historians say of kanafehand kadaif date back to the era of the Umayyad Caliphate; Levantine dessert makers prepared these desserts for Muawiyah I, the founder of the Caliphate, after he complained from hunger during fasting Ramadan.
The address of kanafeh in Turkey: Hatay
When it comes to kanafeh in Turkey, the regions of Hatay, Kilis and Antakya come to mind first.In the Hatay region of Turkey, which was formerly part of Syria and has a large Arab population, the pastry is called kanafeh and the wiry shreds are called kadaif. A semi-soft cheese such as Urfa cheese or Hataycheese, made of raw milk, is used in the filling.In making the kanafeh, the kadaif is not rolled around the cheese; instead, cheese is put in between two layers of wiry kadaif. It is cooked in small copper plates, and then served very hot in syrup with clotted cream and topped with pistachios or walnuts.
Beynur, which has been offering you the indispensable flavors of tables in a form that is easy to prepare for years, now offers you dessert of kanafehin addition to meat products. You can bring this dessert, which requires relatively more effort to prepare and cook, to your table with the quality of Beynur.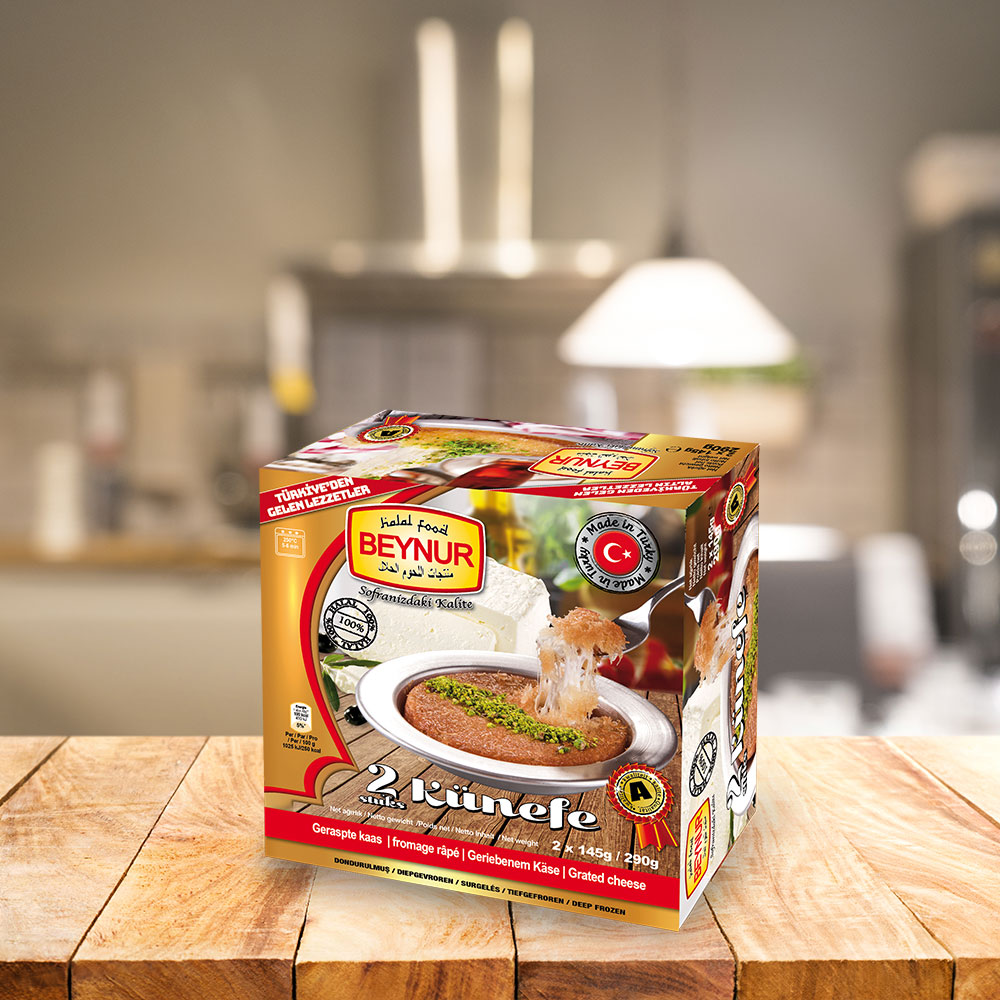 Historical Kanafeh Dessert is Now on Your Tables with the Name of Beynur
Beynur Kunefe is a delicious and practical product that is sold ready-to-serve. Beynur Kanafeh, flavored with special and natural kanafeh cheese, kadaif and natural butter with a very balanced sherbet, stands out as a firm alternative to sweeten your Ramadan tables…
You can quickly prepare Beynur Kanafeh that you put in your fridge and serve it to your loved ones for iftar meals. Beynur Kunefe, which can be prepared at 230 ° C in 10 minutes, also can be served in an eye-catching manner with fresh cream and ice cream.
Moreover, all Beynur frozen products are produced in European standards and are 100% halal. You can consume without hesitation and worry.
Healthy and Halal Products with Beynur
Frozen products in Beynur product range are prepared according to Halal standards. In addition, all Beynur products are produced according to European healthy standards. Thanks to its wide distribution network, you can easily buy all Beynur products from supermarkets in Europe, especially in Germany, Belgium and the Netherlands.